ABS Volumetric Modules proprietary process is considered as a game-changing technology since it offers faster construction, safer manufacturing, better quality control, and lower environmental impact compared with the traditional onsite construction or other factories' modules. ABS provide a complete fully finishes factory build Volumetric Modules utilizing the structural efficiency of the ABS prefab Cold Formed Steel faming systems. All ABS Modules are build and finished to the client's design criteria including dimensions, layout and finishes.
Benefits
The apparent shortage of skill labor, higher cost / longer lead-time of materials and the increasing demand for housing, has increased the need for off-site construction solution. ABS benefits to developers include predictability of cost, quality assurance, faster construction times, less waste, less noise and disruption to the neighborhood, less even zero – defects and improved site health and safety.
Design
ABS Module are designed utilizing the ABS prefab cold formed steel framing systems. This allows ABS to provide its clients the ability to design at will without the typical constrains put on by other modules manufactures. ABS 3D modelling and component scheduling enables a fully completed building to be visualized prior to construction. Changes to the layout can be made quickly and cheaply.
Sample of a 400 sf one bedroom apartment.
Process
The ABS process is modeled after the Henry Ford assembly line which allows for increase of productivity and quality control. Unlike a typical construction site or other module's builders, ABS controls its production by producing the framing systems inhouse using its Roll formers to increase efficiency and lower its waste to 0.5%. This also allows ABS to procure coil steel months in advance to avoid any dependency on supply chain disruptions and cost unpredictability.
Assembly drawings are used by the factory production lines using CNC machines and production methods. As-built drawings and equipment schedules become embedded in the O and M manual making it easy to identify parts for maintenance schedules.
ABS task oriented process allow of ease of employees training and increase of efficiency.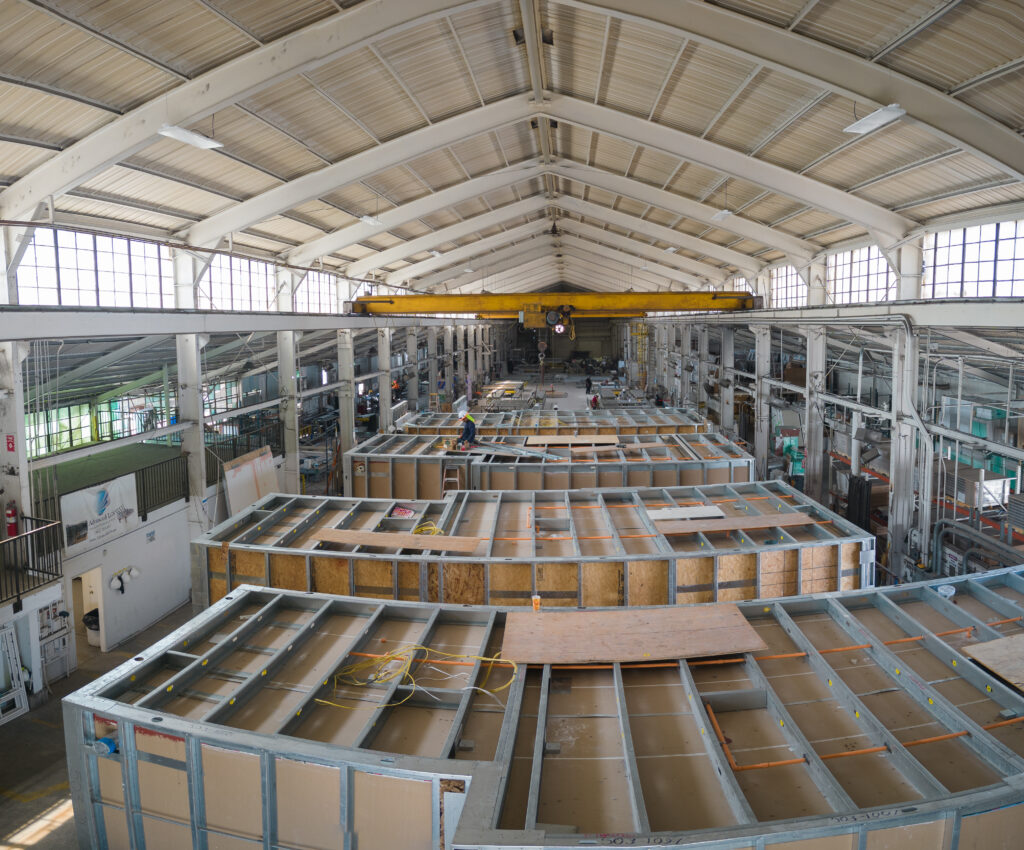 Technological
ABS use of templates and jigs in a factory environment provides greater accuracy and tolerances particularly when used with CAD design systems.